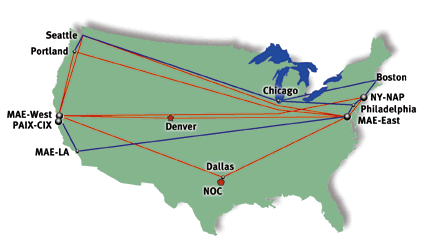 The Verio National Network
The National Network links members of the Verio group of Internet Service Providers to each other and to the key national exchange points---MAE West, MAE East and NY NAP---as well as to the Digital Internet Exchange, located in Palo Alto, California.
The network features Cisco 7500 series router technology and OC3 links, which connect the national exchange points and the network access nodes. Group members access the Verio backbone by connecting their local networks to one of the network nodes located in metropolitan areas throughout the United States. Additional access nodes are being added as more group members link to the Verio National Network.
24 x 7 Network Operations Center
The network is monitored 7 days a week, 24 hours a day by the Network Operations Center in Dallas, Texas. An additional NOC is currently in development. The NOC provides network monitoring, performance and traffic management for both the national and local affiliate networks. It also furnishes real-time network status to Verio's Customer Care and assists with problem resolution.
In addition, network monitoring by the NOC includes real-time alarming, event correlation, traffic forecasting and notifications of network events. Verio's national engineering group, strengthened by its regional engineering teams, constantly monitors and upgrades network infrastructure as required to match our customers' bandwidth requirements.